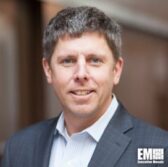 Ted Girard leads the federal business of Menlo Park, Calif.-based enterprise resource application services provider Delphix as a vice president at the company.
Girard's GovCon career includes time as vice president of federal sales at BMC Software and federal sales director at data center automation software company BladeLogic, which BMC purchased in 2008 for $854 million.
In this conversation with ExecutiveBiz, Girard discusses Delphix's strategy to bring ERP tools and products into federal agencies, how he thinks agencies can get a handle of data security and management and overviews the factor of data speed in that effort.
ExecutiveBiz: How does the federal market fit in within Delphix's overall business strategy?
Ted Girard: The federal market is a very important market for Delphix. The company has identified the federal sector as a strategic area for its success and has invested upfront in areas that are needed in order to achieve a large sustainable government business.
First and foremost, we hired seasoned federal sales executives and support staff for consulting, professional and engineering services to be able to develop things unique to the federal space and comply with federal mandates. We also have a partnership with In-Q-Tel and we are a part of their portfolio of companies.
We're participating in the NSA's Provisional Industrial Security Approval to have meaningful discussions with key industry and government exeutives. We feel our value proposition directly addresses a direct and pressing need in all federal agencies — gaining greater control over their data and delivering strategic applications to the field faster and at a lower cost. Delphix has made a major investment in working with, supporting and solving these issues to enable the government to be more strategic and innovative while managing lower budgets.
ExecutiveBiz: Could you identify two parts of the business you've focused on over the past year?
Ted Girard: We"™ve focused our time and energy on two solution areas in the federal government and this has proven to be very successful. The first is addressing large application migration/consolidation projects. Delphix is specifically designed to remove the constraints that typically plague these projects in terms of quality, speed and cost. Given the budget constraints in the federal government, there are mandates to consolidate data centers and reduce redundant applications and infrastructure.
We deliver data on demand through our virtual solution which eliminates waiting time resulting in faster development, testing and delivery — something like that. The second area we are focused on is the federal government"™s need to modernize legacy applications. This is a tricky proposition as these applications are typically mission critical services that can"™t afford any downtime.
This usually means issuance of high dollar/multi-year contracts that also have corresponding high frequencies of not meeting either deadline or budget objectives. We go after these types of environments where Delphix has a significant value proposition.
Our customer metrics show we can cut application project delivery times in half by accelerating data delivery by a hundred times and improving infrastructure utilization by factor 10x. Our customer metrics show that we can accelerate application delivery by 50 percent, accelerate data delivery by 100 times and improve infrastructure utilization by a factor of 10 times.
ExecutiveBiz: What do Delphix's federal clients want to do with enterprise resource planning? 
Ted Girard: There are many different uses for ERP systems within the federal market. However, the primary uses I see are: financial management and accounting systems, human resource planning systems, and logistics management systems. These large mission critical systems have been in the government for many years, are typically highly customized, and more often than not, run on legacy systems. An example is a DoD customer we are working with which has 5 disparate ERP systems run by 5 separate primes.
These systems are all legacy in nature, redundant, and cost millions of dollars per year to operate and maintain. We are working with government agencies to help them modernize their infrastructure, consolidate these redundant systems, and do it without incurring any significant downtime. We will help the government discover a better way to upgrade and consolidate applications by moving them to less expensive platforms in half the time and cost – while seamlessly maintaining mission services.
ExecutiveBiz: How will the ERP market shape itself in 2015?
Ted Girard: ERP systems have been around for twenty years and they are going to be around for years to come. There is nothing specific in 2015 or beyond that's going to be any different than it was in 2014. These multi-year projects are over budget and running behind schedule. Our strategy for 2015 is to introduce Delphix to program managers and IT executives accountable for implementing these changes, upgrades or migrations, and show them that Delphix can cut their delivery times in half, significantly reduce project cost, and increase the quality.
Our customers have indicated that Delphix has been a game-changer for them — they now have a way to successfully execute these massive projects in less time and with less cost. They can use the freed up resources to do more strategic things. Simple as that.
ExecutiveBiz: What challenges do federal agencies face around security and data management with the explosion of data? What do agencies have in their toolboxes to help with that?
Ted Girard: Federal agencies face massive challenges around data management and data security in particular. The exponential growth of data is only part of the problem. Data growth is exacerbated by the increasing number of repositories and locations and the need to secure sensitive data in all instances. These data repositories are dispersed across data centers, tactical environments, private and public clouds, SaaS providers and big data lakes, making it even more difficult to control.
Growing data, number of repositories, and number of locations add cost, complexity, and risk to federal application projects. Agencies have turned to several new technologies to help manage and mitigate risk, including data virtualization. The Delphix Data as a Service solution facilitates buying, building and migrating applications by enabling data on demand for testing, QA and development.
The ability to access data sets in minutes versus hours, days or weeks shortens time to deployment, enables multiple groups to access data simultaneously, and eliminates production downtime. Our solution also incorporates an agile data masking capability which greatly facilitates the masking process and makes it simple to keep the masked data set updated when changes occur. If systems are compromised, agencies are not at risk as the data that is compromised is masked so personal or proprietary information can not be accessed.
Delphix helps agencies reduce their cost of data ownership and increase their control over massive amounts of data to ensure they can continue to get projects out on time and at budget. We are seeing more and more agencies adopting virtualization as a core part of their business strategy to help them not only keep up but try to stay ahead.