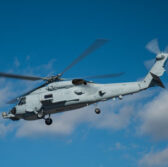 A new Research and Markets report predicts the global military rotorcraft market to hit $27.3 billion by 2025 from $21.1 billion in 2015, with Asia-Pacific countries to dominate the spending landscape.
Investments from the Asia Pacific will account for 33 percent of rotorcraft spending worldwide during the forecast period, followed by North America with a 29-percent share, Research and Markets said Monday.
The report also forecasts multimission and maritime helicopters to represent the biggest share in the global military rotorcraft expenditure.
Research and Markets cited Airbus Helicopters, BAE Systems, Bell Helicopter Textron, Boeing, Korea Aerospace Industries and Sikorsky Aircraft among the tier-one players in the market for the next 10 years.
The market analyst expects major rotorcraft programs between 2015 and 2025 to include the CH-148 in Canada, transport helicopters, the CH-53K and the CH-47 Chinook in the U.S., light utility helicopters in India, attack helicopters, the AH-64 Apache, the Korea Attack Helicopter program, the EC-665 Tiger attack helicopter, training helicopters and the MH-60 in Qatar.
The report has set a 2.61 percent compound annual growth rate for the market during the forecast period.