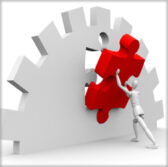 A new PwC report on the mergers and acquisitions in aerospace-and-defense industry says deal activities increased in 2014 compared to 2013 and the number of transactions worth at least $1 billion doubled from the prior year.
The firm's Mission Control report, authored by PwC Global A&D Leader Guillaume Rochard and U.S. A&D Leader Chuck Marx, says the total deal value reached $22.3 billion in 2014, up from the $14.3 billion total value recorded for 2013.
PwC says A&D companies made 289 deals in 2014, an increase from the 258 reported in 2013.
Significant deals in the sector during 2014 evaluated by PwC included the merger of ATK and Orbital Sciences to form Orbital ATK and Engility's pending $1.1 billion acquisition of TASC.
Rochard and Marx also cited Harris' agreement to purchase Exelis for almost $5 billion as an indicator that 2015 could see consolidation among small- and mid-tier suppliers.
That deal is the largest transaction in the A&D sector since United Technologies' $18.4 billion purchase of Goodrich Technologies in 2012 and among the top five largest deals within the past 10 years, PwC says.
PwC cited cybersecurity, intelligence, surveillance and reconnaissance as a "major theme" in the transactions, as well as niche technologies of electronics and unmanned or autonomous aerial vehicles.
BAE Systems' twin purchases of SilverSky and Eclipse Electronic Systems, Raytheon"™s $420 million acquisition of Blackbird Technologies, as well as the Engility-TASC deal were for business segments PwC says fall "in line with major budgetary priorities of governments across the globe."
Maintenance, repair and overhaul businesses also experienced increased spending and activity due to higher passenger traffic and a shift in focus to MRO as budget constraints affect the service life of defense platforms, the report said.
The report also pointed to renewed interest from financial investors, the commercial potential of A&D technologies and the need to consolidate the supply chain as factors that drive M&A activity.
"While 2014 activity improved from the year before, lack of suitable opportunities, high valuations, and an uncertain budget outlook have restrained M&A deals in the A&D sector," Rochard and Marx said.
They noted that dividend payouts and share buybacks have taken some of the focus away from organic growth.