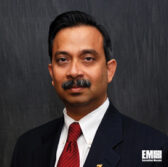 PV Puvvada, president of Unisys' federal systems business, sees government customers as an engine that will drive the company's growth strategies, he told the Washington Business Journal in an interview published Thursday.
Puvvada told reporter Jill Aitoro the company can turn a commercial information technology product into a pubic sector IT offering and vice versa.
"Our approach is to be laser focused around solutions, and bring the commercial best practices to the federal customers," he added, according to the publication.
Unisys announced Puvvada as the new full-time head of the company's federal unit this week after he led the organization on an acting basis since last summer.
He noted to the Business Journal that Unisys is taking a long-term view of the federal market due to the government's cyclical appropriations process.
During the interview, Puvvada mentioned that Amazon Web Services named Unisys a "customer obsession" partner to acknowledge its work to deliver AWS cloud offerings.