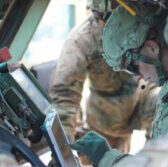 Exelis has won a $10.7 million contract to help the Defense Advanced Research Projects Agency develop a radio chip technology that would secure airborne communications against electronic threats.
The company aims to build a microarchitecture for engineers to reconfigure military radio subsystems for multiple functions without redesigning an entire system through the agency's Communications in Contested Environments project, Exelis said Thursday.
"By focusing on modularity and multifunctionality, we are committed to keeping communications capabilities at the cutting edge," said Mark Adams, vice president and general manager at Exelis' specialty applications business.
The company will also design the chip with the goal of addressing jamming and data sharing issues in battlefield radio systems.