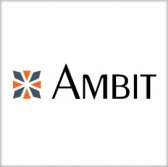 The Ambit Group has received three task orders worth an estimated $28 million to provide program and project management services to several agencies within the Department of Homeland Security, Homeland Security Today reported Monday.
DHS awarded the task orders via the Enterprise Acquisition Gateway for Leading-Edge Solutions II contract vehicle to facilitate efficiencies in information technology investments, the report said.
The first task order calls on Ambit to support the DHS Office of the Chief Information Officer in monitoring and evaluating the performance of IT investments in acquisition lifecycle, enterprise architecture and other areas.
Under the second task order, the company will provide the Office of Information Technology within the U.S. Citizenship and Immigration Services with priority project reporting, strategic engagement and other executive-level management services.
According to the report, Ambit will also support the Federal Emergency Management Agency's Program Management Office in implementing the Disaster Management e-Government Initiative as part of the third task order.