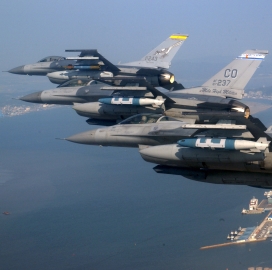 Boeing could receive $15.6 billion over the next five years to fund the production of modified 767 jets for the U.S. Air Force's aerial refueling operations, Bloomberg reported Thursday.
Tony Capaccio writes that the Defense Department is requesting $2.95 billion for fiscal 2016, $3.22 billion for fiscal 2017 and $3.1 billion for fiscal 2018 through 2020 for its KC-46 tanker program.
Capaccio also reports Boeing will shoulder a $1.5 billion excess cost for the development of the first four KC-46 jets and submit a revised production schedule in the next month.
Air Force acquisition chief William LaPlante told reporters in a recent interview that the service still expects Boeing to meet the August 2017 delivery date for the first batch of tankers.
Capaccio notes that DoD's proposed five-year spending plan also includes $5.18 billion to Northrop Grumman for the Air Force Global Hawk and U.S. Navy Triton drones and $11.4 billion to Huntington Ingalls Industries and General Atomics for the USS John F. Kennedy and USS Enterprise aircraft carriers.
Lockheed Martin, AM General and Oshkosh are also bidding on a potential $5.59 billion contract to produce more than 10,000 Joint Light Tactical Vehicles for the U.S. Army and U.S. Marine Corps, the report said.