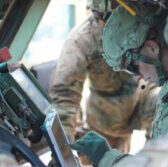 Strategic Defense Intelligence has released new report that predicts the U.S.' command, control, communications, computers, intelligence, surveillance and reconnaissance market to reach $74.3 billion in value by 2024.
The report also indicates that the nation"™s growing counterterrorism programs could further the U.S. government"™s demand for ISR technologies, Strategic Defense Intelligence said Thursday.
"The efficacy of these systems has already been tested in Afghanistan and Iraq, and the fresh challenges posed by IS in the Middle East means that IT and cybersecurity, electronic warfare, 24/7 airborne surveillance and information collation for command centers are now vital points of differentiation for the U.S. military," said Saktishree Majhi, an analyst at SDI.
"The US is phasing out tanks and other key weapons programs and is diverting its spending on IT and other C4ISR programs despite the significant research and development costs," Majhi added.
Strategic Defense Intelligence also expects the U.S. to maintain the existing scale of investment in C4ISR systems.