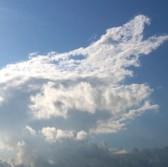 Kirk Kern, chief technology officer of cloud technologies at NetApp's U.S. public sector business, has outlined cloud adoption challenges to federal agencies and recommended strategies to overcome those issues.
Kern wrote in an opinion piece for Federal Times published Monday that one potential obstacle to federal agency cloud adoption is the "lack of clarity on cloud migration path."
He said agencies need to evaluate existing systems, identify a cloud transition method, assess the quality of a cloud provider, port data to hybrid cloud platform and measure the impact of moving into a hybrid environment in order to develop a migration path to the hybrid cloud.
Kern also wrote that agencies are confronted with barriers from data governance as they use "portfolio of public, private and hybrid clouds based on their specific needs."
"Agencies seeking a balance between scalability and security will gravitate towards public computing and the use of public networks and servers," he said.
He added agencies aim maintain stewardship of their data with the secured multi-tenant domains developed by cloud providers.
Another obstacle to federal cloud migration is information security, according to Kern.
"While information can be secured via encryption services, cross-cloud user authentication, access management and key management become problematic as multiple services are consumed," he wrote.
Kern also cited risk management as challenge to federal agencies and suggested that the government develop processes to determine data loss tolerance.