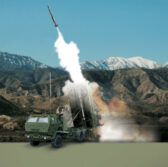 MEADS International, a joint venture between Lockheed Martin and MBDA, is working to secure deals to deploy its Medium Extended Air Defense System for air and missile defense capability development in Germany and Poland.
Lockheed said Wednesday Germany has named MEADS a candidate for the Taktisches Luftverteidigungssystem contract, while Poland has included the JV in technical discussions for the Narew system.
Volker Weidemann, executive vice president of MEADS International, said the company is ready to deliver its launchers, radars and battle managers for follow-on programs in Europe.
Besides potential deployments in Germany and Poland, Italy could also select MEADS as the foundation for its national defense system, Lockheed said.
The company added that the U.S. Defense Department has earlier expressed interest to use the air defense system and has conducted a contract review through the U.S. Army's Aviation and Missile Research – Development and Engineering Command.
MEADS International is the prime contractor on the MEADS program, which NAMEADSMA manages from Alabama.