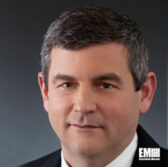 Mike Petters, president and CEO of Huntington Ingalls Industries, has urged government and business leaders to consider the long-term impact of investments in infrastructure and technology, the Detroit Free Press reported Wednesday.
Tom Walsh writes that Petters told his audience at a recent Detroit Economic Club event that budget constraints and short-term mindsets affect both the industry and its customers.
"There's more and more short-term decision making on a lot of issues… and I think that leaders in our society have to actually resist that "" and with some courage, take a longer view," Petters said.
Walsh reports that HII began construction on the USS Gerald R. Ford in 2009 and is anticipating a service life of 50 years for the nuclear-powered aircraft carrier following deployment to the U.S. Navy scheduled in 2016.
Petters also noted that the company is working with Michigan-based suppliers on the machinery, diesel engines and other components of the ship, the report said.