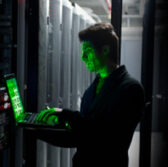 BAE Systems predicts that 2015 will see developments in technology, regulation and other cybersecurity aspects as cyber threats continue to evolve and impact efforts to combat digital crime.
The company said Wednesday that Scott McVicar, managing director for cybersecurity at BAE's applied intelligence unit, noted that cyber crime will use fragmentation and deception tools to challenge investigation and detection.
The "industrialization" of the cyber crime market, the emergence of crime-as-a-service and the use of "false flags" to mislead researchers from making correct attribution are some of the trends to develop in 2015, he said.
Due to these, McVicar added that organizations will implement "hyper regulation" and combine detection efforts to actively combat threats, as well as incorporate security into systems amid increasing connectivity between devices, machines and people.
"We anticipate that 2015 will see increased focus on building in security-from-the-start for the next industrial revolution," he said.
McVicar also expects companies to ramp up the utilization of big data to generate business value.