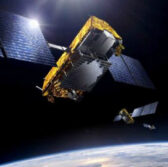 A new report from Research and Markets forecasts the mobile satellite services market will reach $5.62 billion by 2019.
The market research firm estimates the market to grow at a compound annual growth rate of 10.2 percent from 2014 to 2019, Research and Markets said Monday.
"Satellites will continue to deliver efficient broadcast services on a global basis that will also serve as a multitude of unique use cases in innovative infrastructure solutions," the company added.
"In the last few years, satellites have played a key role in the growth of global communications, media, and technology industries," Research and Markets said.