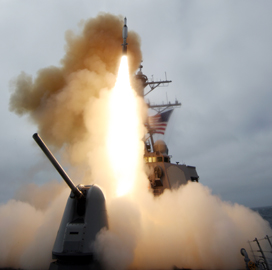 A Research and Markets study projects the missile defense systems market will see a compound annual growth rate of 3.11 percent in the five years leading up to 2018.
The projected increase is based on industry's annual sales of self-guided and propelled missiles for military operations globally, Research and Markets said Tuesday.
ATK, Boeing, BAE Systems, Lockheed Martin, Northrop Grumman, Raytheon, Saab and Thales are among the key vendors in the market, the report states.
Research and Markets observed a growing demand for missile technology that is built to defend against explosive threats and made to be lower maintenance.
The research firm also predicts the defense agencies of Saudi Arabia, Russia, India and China to get a budget boost from 2013 to 2018.