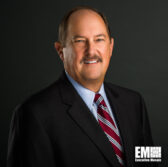 Randy Fuerst, a nearly three-decade GovCon veteran, elevated to the CEO post at Reston, Virginia-based Oceus Networks earlier this year from his prior chief operating officer role there.
He joined the broadband technology contractor in 2011 from CACI International, where he served as that company's COO.
Fuerst recently caught up with ExecutiveBiz to discuss wide-ranging topics such as Oceus' public safety market strategy and where he wants the company to be by the end of this decade.
ExecutiveBiz: What areas of Oceus have you focused on since you became CEO?
Randy Fuerst: My predominant focus has been to refine our corporate business strategy. Over the past few years, we have worked hard on our focus as a company. When one takes over as CEO, I believe that it is prudent to sit down with the management team and consult with them regarding the company"™s direction. Since the end of August, I have worked with them on the refinement of certain areas and resetting the baseline of the whole business platform.
Along with that, we have tweaked and put a new organizational structure in place that has resulted in a couple of promotions for some team members, which is always exciting.
We recently won a first responder contract in the state of New Jersey called JerseyNet. In partnership with a New Jersey-based small business, we are responsible for designing and building deployable LTE systems across the state of New Jersey. This contract is under the auspices of the BTOP grant supported by FirstNet. We are well along the way in the successful execution of this big effort. There is no rest for the weary as I am keeping a keen eye on 2015 where we will soon announce some exciting new features and additions to our product portfolio.
ExecutiveBiz: What areas of the GovCon market have changed the most during your career?
Randy Fuerst: I have over 30 years of experience in the services space and the paradigm from a total solutions standpoint hasn"™t significantly changed over the years. The real key to providing solutions or services is to understand the end client, their mission, and their operations, inside and out. One has to understand the capability set the client is looking for and their associated requirements, in order to build capability that will meet and exceed those requirements.
Our two largest awards in 2014 were best-value awards. They weren"™t low-price technically-acceptable. We are proving that it is still possible to win best-value awards in today"™s government market space. The major change affecting our industry is the convergence of technology with services, as well as the hyper-competitive nature of the business environment. When I first started in our business, large system integrators typically only pursued larger contracts.
It is interesting that they are now duking it out with both the small and mid-tier businesses for deals that are often under $10 million in size. One of the side effects to the hyper-competitiveness is the increasing number of protests, which is really bad for the industry because it lengthens the procurement cycle and makes it difficult on our clients.
ExecutiveBiz: What opportunities and areas of interest exist for the industry in FirstNet and the larger public safety market?
Randy Fuerst: Congress is providing FirstNet with $7 billion to plan and build a nationwide network that must cover the entire U.S. land mass. One of the key aspects to that is a self-sustaining network, which FirstNet does not have sufficient funds to build. The business model that enables commercial carriers to lease additional FirstNet capacity potentially unlocks the most lucrative asset of FirstNet, the nationwide Band 14 spectrum.
A public-private partnership business model has the potential to give FirstNet the additional financial resources to make this network a reality by expanding the $7 billion dollar grant from Congress several-fold over the next 5-10 years.
For our company, FirstNet represents a huge challenge and opportunity. Deployable systems and light-weight fixed infrastructure will play a critical role in accounting for half of the architecture and accelerating the network roll-out to cover a country that is 95-percent rural or remote. Our recent win in New Jersey distinguishes Oceus Networks as a key provider of FirstNet-sponsored deployable systems. Oceus Networks is shaping the FirstNet architecture discussion and distinguishing itself as the public safety LTE deployable leader.
ExecutiveBiz: What are some areas of broadband that agencies are starting to explore?
Randy Fuerst: The federal government"™s principal focus has been in defining the effective strategies for implementation of bring-your-own-device programs across the various agencies. Federal agencies"™ CIOs are adopting those strategies to increase productivity and gain efficiencies across their various enterprises.
Under the present budget environment, everybody is trying to squeeze that last dollar. Additionally, significant efforts are being exerted in mobile device and application management, at both DISA and the General Services Administration. We at Oceus are keenly aware of the various government initiatives exploring the benefits of broadband.
Our principal focus has been building and deploying secure broadband capabilities and solutions that are successfully being applied at the tactical edge, particularly in austere environments and remote rural areas that naturally lack the sufficient communication infrastructure to efficiently enable various missions for the Department of Defense as well as for public safety.
ExecutiveBiz: Where do you want to see Oceus five years from now?
Randy Fuerst: Our team thought diligently about our vision to establish Oceus Networks as an innovative leader in communication, wireless and network enterprise solutions, where our accomplished professionals and engineers can provide best-in-class mobility solutions. Enabling client-mission success means keeping a keen focus on clients"™ needs and adapting our solutions so that the mission is accomplished — that"™s first and foremost.
We are well along the way to accomplishing that vision through our leadership in our various mobility pilots and projects and the invaluable lessons that we have learned. Each client mission brings unique challenges and complexities such as the characterization and optimization of the cellular waveform, coordination of spectrum, as well as the management and security of the network down to the user device.
As we now enter the fourth generation of our products, our internal practice is to build upon those challenges and lessons learned across our client engagements to establish efficient, scalable and interoperable network architectures that meet and exceed client-mission objectives.
Five years from now, we also envision an environment wherein our customers"™ entire enterprises are mobile. The mobile environment will no longer be separate from a static enterprise environment. Therefore we have started to invest in solutions that can scale across the enterprise while simultaneously enabling our customers to remain nimble and mobile.
ExecutiveBiz: Any final thoughts?
Randy Fuerst: We are working with our clients at all levels across many federal agencies to help solve the challenges they are facing in their respective mobility environments, with particular emphasis on secure solutions. It is exciting to be a change agent in this space, where we can help forge the future of mobility across our government. We do appreciate the opportunity to share our experiences with fine organizations like yours.