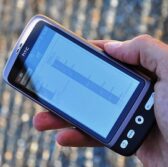 Reston, Virginia-based technology firm Patrocinium Systems has developed a smartphone application that seeks to help users access information in the event of a critical situation, the Washington Post reported Sunday.
Steven Overly writes the ArcAngel app is designed to provide safety instructions to customers who need help and to alert public safety officials of user location through mobile geosensor technology.
The software is available for iOS, Android and Windows smartphones.
John South, founder and CEO of Patrocinium Systems, said the company will offer ArcAngel to companies, universities and individuals, according to the newspaper.
South has held leadership roles at several government contracting firms that provide support for U.S. diplomatic and military operations before he founded Patrocinium Systems.