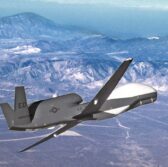 NSR projects global revenues of the satellite-based unmanned aerial systems market to be $3.1 billion by 2023, up from $1.3 billion last year.
Growth will be driven by demand for satellite communications technology intended to support drones used in homeland security, disaster management and peacekeeping operations, NSR said Thursday.
Commercial satellite operators are projected to hold a significant market share over the next nine years.
"In these times of network centric warfare, UAS is the item every armed force in the world aims to possess in large numbers to gain access to information in faraway locations with as little collateral damage as possible," said Prateep Basu, an NSR analyst.
The research firm also predicts drone acquisition and transponder lease revenues will increase after 2015 and that U.S. government might need additional ISR platforms for deployment in conflict areas overseas.
Civilian drone use could also drive market growth starting in early 2017, when the Federal Aviation Administration is expected to issue finalized commercial drone guidelines.