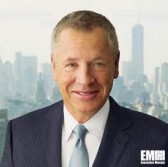 L-3 Communications CEO Michael Strianese has said his work as chairman of the Aerospace Industries Association involves continued efforts to work with Congress and the Defense Department in areas such as budget cuts and innovation.
Strianese told Defense News in an interview posted Saturday that AIA seeks to stop sequestration and its impact on U.S. technological advantage due to a lack of investments in research and development of new technologies.
He told Defense News editor Vago Muradian that commercial companies rely on profit margins to support investments as sales decline and are concerned about thinning margins.
Strianese noted that AIA has talked with Pentagon acquisition chief Frank Kendall to discuss efforts to increase investments and re-educate the industry on current challenges.
He also told Defense News that companies need clarity from customers about technology needs to facilitate smart investments and DoD needs to secure "predictability" through process reform.
L-3 has focused on a long-term innovation path, acquisitions, stock buybacks, commercial diversification and business agility, Strianese said.