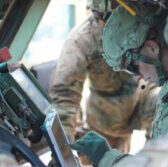 The U.S. Defense Information Systems Agency has collaborated with Exelis and Iridium Communications to test a satellite-based communications service designed to connect military and intelligence personnel anywhere across the globe.
Exelis, Iridium and DISA demonstrated the push-to-talk voice and data exchange service for the agency's  Distributed Tactical Communication System, Exelis said Friday.
"We remain committed to DISA"™s goal of providing DTCS users with more powerful communication tools and an improved overall user experience, regardless of global location," said Mark Adams, vice president and general manager of Exelis' specialty applications business.
The company was awarded the DTCS Global Services contract in May 2013 and is working with Iridium and the Defense Department to develop a road map for the satellite tactical communications program.
The DTCS is built to allow multiple combat units and echelon commands to communicate while on the move.