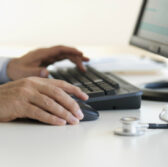 A new survey from Dell on global technology adoption found that a majority of IT decision-makers at midsize healthcare organizations, as well as other industries, either have adopted or are planning to adopt cloud computing.
The company said Tuesday its Dell Global Technology Adoption Index report indicates that this interest in cloud comes as healthcare organizations identify IT priorities in cost efficiency, infrastructure upgrades and data center optimization.
Cliff Bleustein, chief medical officer at Dell Healthcare and Life Sciences, said cloud technologies can free up resources to facilitate the development of a data-driven and patient-centered healthcare organization.
"By providing the flexibility and scalability that enables small and mid-size healthcare organizations to be more nimble in the face of constant change, the cloud can help speed and ease the transformation as other newer technologies are adopted," he said.
Dell offers cloud services such as a vendor-neutral image-archiving-as-a-service offering and cloud-hosted healthcare information systems.
The company said it commissioned TNS to perform qualitative interviews and quantitative surveys of IT leaders around the world to produce the Dell Global Technology Adoption Index report.