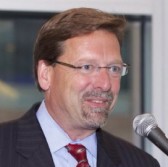 U.S. Army soldiers and commanders are using a General Dynamics-built communications network to exchange information as they conduct operations to stop the Ebola outbreak in West Africa.
General Dynamics said Tuesday its Warfighter Information Network""Tactical system is designed to help military personnel send each other voice, image and data files over a satellite-based network.
"WIN-T has successfully delivered the secure communications life-line for soldiers in combat and it's now providing critical communications linkage for the Army's non-combat missions like this one in Africa," said Chris Marzilli, president of General Dynamics' C4 systems business unit.
The company also built the system for Army users to communicate when they respond to disasters and civil emergencies.
The Army National Guard has re-established radio and mobile communications following hurricanes Sandy and Katrina through the WIN-T infrastructure.