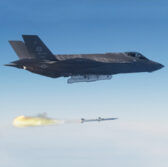 The Royal Air Force has collaborated with BAE Systems and Lockheed Martin to demonstrate the weapons handling system of F-35 short take-off vertical landing aircraft.
BAE said Friday test pilots flew two F-35B fighters equipped with dummy Advanced Short Range Air-to-Air Missiles and Paveway IV laser-guided bombs during recent trials at Patuxent River Naval Air Station in Maryland.
Raytheon and MBDA respectively produce the Paveway and ASRAAM weapons.
"The team at Patuxent River has got over two thousand hours of flying under their belts for the F-35B variant and the handling and performance of the aircraft has shone through throughout," said Pete Wilson, BAE's lead F-35B test pilot.
The aircraft handling tests sought to help F-35B test pilots understand how the fighter performs and manages its weapon payload.
BAE says additional assessments are scheduled to occur early next year to demonstrate the weapons' separation and release from the aircraft.
The British air force and navy expect their F-35B aircraft to achieve initial operating capability in 2018.