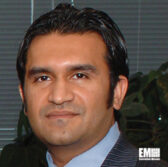 Adnan Ahmed, president of contractor CNSI, and his three other partners founded the Gaithersburg, Maryland-based company in 1994.
The information technology and outsourcing services company has since grown to be a holder of prime contracts and positions on major contract vehicles.
Ahmed recently sat down with ExecutiveBiz to discuss the company's origins, offer advice for businesses that may just be starting out in GovCon and CNSI's strategies for market such as healthcare and data management.
ExecutiveBiz: What opportunities and ideas led you and your partners to found CNSI?
Adnan Ahmed: The four of us have been friends for a long time and even went to college together. We were working for different companies at the time the Internet was becoming part of a business strategy. We all came together to take advantage of the demand being created by the Internet.
We put our heads together and brought our individual expertise to the table to pursue the opportunity which was lending itself within the public and commercial sector at that time. This was the basis of how we started CNSI.
ExecutiveBiz: What experiences and lessons from your time at I-NET do you lean on now?
Adnan Ahmed: Immediately after college I had the opportunity to work for I-NET, a federal government contractor and systems integration firm. I had the responsibility of selling to the federal government, from the DoD to civilian. I learned something that was not taught in class and could only be learned from experience: to market and sell to the federal government. I was able to depend on my experience over the three years at INET when I started and took CNSI to the next level within the federal government market place.
ExecutiveBiz: What demand does the company see in the public sector as the Medicaid and Medicare environments change?
Adnan Ahmed: Most states have been running antiquated and archaic thirty year-old systems which cannot cope with the demands of policy changes happening in the public sector, i.e. the Medicaid market. Over a decade CNSI has been seeing a demand to refresh the technology platform to cope with changes created by the federal government and happening across the board; and together with ACA, a new accelerated dimension in changing the entire ecosystem for the states as well as the federal government market place.
In order to ensure that they are keeping up with the changes on a timely basis, they need to bring about technology and innovations. It is most important for decision-makers and policy makers to see that the policies they make are executed efficiently and effectively.
ExecutiveBiz: What are some areas of data management that federal agencies are starting to fully explore?
Adnan Ahmed: Agencies have yet to institutionalize the data governance board and the discipline to create enterprise view for particular data. Applications developed today have practically been in silos and driven by business users. There has been a lot of progress in the quality of data but it is still part of the application portfolio that needs to be looked at an agency or department level.
Some agencies have done a fairly good job extracting value out of this data however the decision makers haven't been able to get data in a near real-time basis. Data.gov is a good initiative to open up to the commercial entities and utilize the full potential of data captured by the government. We are moving in the right direction and in due time we will see the results.
ExecutiveBiz: How does CNSI factor in these government-wide contract vehicles into a strategy? How do you approach these differently from vehicles of a single agency?
Adnan Ahmed: GWAC vehicles are an integral part of our overall value proposition with the federal government. We have invested in acquiring GWACs, which helped us market to the various government agencies that we work with. GSA is our number one organization and our vehicles within GSA have been our number one GWAC. It is also important to market to different agencies like CMS.
Over the past twenty years, CNSI has become a very strong healthcare business technology solutions provider. Therefore, within our health and human services business those particular agency-wide contracts are critical for our future growth. We spend energy and time strategizing the company's position as a large business within this market place.
ExecutiveBiz: What advice do you have for other companies that are starting in the federal market?
Adnan Ahmed: If they are going after the federal market you can no longer be just a commodity player within the federal government due to excessive competition. It is extremely important to firm up the value proposition and know exactly what you are doing. I highly recommend to our future entrepreneurs the way CNSI shaped up itself over the past twenty years.
Honing their expertise is the key to separating themselves from the many companies that want to do business with the federal government. They have to know what the government wants rather than push something which the government doesn't have the budget for or isn't planning in its OMB 300s as strategic areas.
I would highly recommend companies to partner with companies, which work with the federal government and want quality small businesses with capability and know-how on what the federal government wants. The keys are strong value proposition, partnerships and ability to deliver.