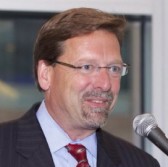 General Dynamics has deployed version 11-S of its Trusted Network Environment software to the U.S. Central Command to facilitate the exchange of Secret-level classified information between the U.S. military and international coalition partners.
The company said Wednesday the cyber defense tool leverages user access privileges and security credentials as well as data labeling and content inspection technology to manage authorized access, information visibility and malware-free transmissions.
Chris Marzilli, president of General Dynamics C4 Systems, said the company expects TNE to support real-time sharing of and response to intelligence information during joint operations.
This capability is also aimed at bolstering force collaboration and tactical network security, the company said.
General Dynamics noted that the National Security Agency and Defense Information Systems Network Security Accreditation Working Group have certified TNE.