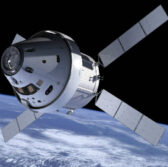 Ball Aerospace & Technologies has supplied four phased array antennas and three cameras for the Lockheed Martin-built Orion spacecraft.
Orion's antenna system is comprised of more than 5,000 components and designed to transmit data and voice communications from the capsule's liftoff until its splashdown, Ball Aerospace said Friday.
The company based its Orion flight test cameras on the docking camera that was used in NASA's 2011 STS-134 mission to the International Space Station.
Jim Oschmann, vice president and general manager of civil space and technology at Ball Aerospace, said the company also built technology products for several U.S. unmanned and manned space exploration programs in the past.
NASA and Lockheed are readying Orion for its Dec. 4 uncrewed test flight from Cape Canaveral, Florida.