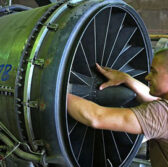 A Lockheed Martin division will provide European Aviation with jet engine maintenance, repair and overhaul services both on-site and at facilities in Canada and the U.S. under a four-year exclusive contract.
Lockheed Martin Commercial Engine Solutions will perform work on 60 CFM56-3 turbofan engines at a European Aviation facility and LMCES sites in Montreal and San Antonio, the company said Tuesday.
"We are delighted that European Aviation selected Lockheed Martin to maintain their fleet of CFM56 engines," said Amy Gowder, LMCES vice president.
She noted that the company's arm in Montreal has an existing work relationship with European Aviation.
LMCES is a center of excellence for maintenance, repair, overhaul and test work on commercial and military aircraft engines, Lockheed said.