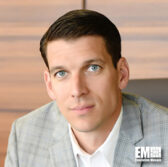 Jonathan Moneymaker oversees areas such as corporate strategy, business development, capture and legislative affairs in his role as chief strategy officer at Altamira Corp., the company that formed out of the Invertix–Near Infinity merger last year.
A former business unit general manager from Boeing, Moneymaker's GovCon career includes leadership roles in mergers and acquisitions such as Anonymizer's combination with Abraxas Corp. and Apogen Technologies' buy of Ocean Systems Engineering Corp.
In this conversation with ExecutiveBiz, Moneymaker discusses Altamira's push to bring open source tools to the intelligence community and why agencies have sought to adopt those technologies. He also comments on a contract award he sees as "transformative" for Altamira.
ExecutiveBiz: When did you join Altamira and what areas have you focused on since then?
Jonathan Moneymaker: I joined the company in June of this year and over the past few months the team and I have really been focused on alignment and the completion of the integration of the heritage companies. Today my attention has shifted to architecting our three-year strategic plan – Altamira has tremendous resources and assets and we want to focus on capitalizing on our core markets first, then begin looking at different expansion opportunities and avenues to accelerate the vision. It"™s been a lot of fun being part of such a great team with so much opportunity in front of us.
ExecutiveBiz: What led you to join Altamira?
Jonathan Moneymaker: I"™ve led both small start ups and Fortune 50 business units in the past and when the opportunity to join a mid-market company serving markets near and dear to my heart, I was intrigued by the potential. I was excited for the opportunity to focus on innovation across a full spectrum of engineering, analytical services, and software solutions while working with great talent. Our investors have done a great job pulling together two heritage companies with all the right ingredients.
Now we"™re able to harness a broad contractual footprint, tremendous talent and great technology to solve some really hard problems. Being large enough to have the resources to create momentum and small enough to be agile and fun was really appealing. When you combine all that, the decision to join was really pretty easy.
ExecutiveBiz: How does the company's spot on the $960 million Air Force intelligence contract position Altamira in the Dayton region and intell market overall?
Jonathan Moneymaker: The ATEP II win for Altamira is transformative. Huge credit goes to everyone inside the company and all our teammates that made it possible. We are excited about the expansion opportunity of doubling the size of our Dayton presence and continuing to integrate into the Dayton community. If all goes well, it will soon be our biggest office in the company and a great example of our strategy coming to fruition.
We excel at delivering extraordinary end-to-end innovation and bringing technology to mission. As far as impact across the broader intel market, it"™s a great example of how innovation and execution can be led by a smaller company "" I give NASIC a lot of credit for leading the way on their acquisition strategy.
ExecutiveBiz: What are some areas that customers are looking to innovate in? In the area of information management, what are they looking at industry for help with the most?
Jonathan Moneymaker: There are really several different lenses to view that through. From a technological standpoint, it is about both transitioning applications to the cloud as well as architecting next gen solutions designed from the ground up to operating natively in a cloud environment. We bring our advanced application development experience to bear with the tools, techniques and technologies that can truly harness big data and optimize that cloud eco-system.
A different view of innovation involves new business models that dramatically help our customers accomplish their goals or missions amidst a constrained budget environment. We partner with our customers by delivering unprecedented pound for pound value in Open Source solutions which can be fully tailored and adapted for their specific needs without leaving them with a traditional black box proprietary solution. With our Open Source tools, customers have full insight into all inner workings of the system. As their mission adapts at increasing speed, this visibility allows them to keep pace with the change.
ExecutiveBiz: Where can Open Source help agencies manage some of those budget challenges?
Jonathan Moneymaker: In our National Security market Open Source is an idea whose time has come. Gone are the days of questions around quality, scalability, or security. The value is really in speed and flexibility. In many cases deploying open source solutions enable us to start at a 80-90% or higher solution then integrate or customize that framework to a specific mission set that is able to adapt as fast as the threats our customers are combatting.
In terms of scalability or security, we designed in parallel to our customer"™s roadmaps building on Accumulo, the AWS infrastructure and ensuring capabilities such as our big data and visualization platform, Lumify, are fully ICITE compliant. By doing so, it gives our customers the speed to mission required and every dollar spent goes directly into mission capability delivering budgetary relief that they have been looking for from costly traditional proprietary licensing models.
ExecutiveBiz: What lessons do you draw on from your previous work with your current role?
Jonathan Moneymaker: To some degree nothing compares to actually having "done it" – experiencing both successes and pitfalls along the way, building that corpus of knowledge, and always learning. From a business standpoint, the goal of architecting strong organic growth based in true differentiation with a sustainable competitive advantage is paramount and should always be challenged by yourself and your team. As you deliver on that plan, I have learned to begin looking at how you can pull different levers to accelerate that strategy and always challenge yourself to have several options.
Having started in small business, I learned to take the great startup ideas with their minimal infrastructure and resources, architect a growth path, and design a strategy to fully maximize value creation and ultimately position for acquisition, where 1+1 really did equal 3 for the new entity. From my time in the Fortune 50 world, I gained an appreciation for the other half of the equation and while large companies operate differently, the fundamentals are nearly identical. Strategize "" Organize "" Realize "" Accelerate.
Having been in this industry for a while now though, I have learned that the real difference comes from the people and their talents.. Building effective teams built on trust, clear expectations, common goals, and diverse viewpoints are the key to chemistry and the key to success. I"™ve been incredibly blessed with the teams I"™ve been able to build, lead, and work alongside of.
Also, I wouldn"™t be here today without the exquisite mentors that have provided sound council and guidance throughout my career "" I"™m thrilled about what we have in front of us and look forward to having a lot of fun doing incredible things with Altamira.