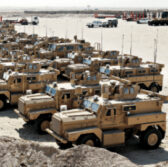 Blast seat manufacturers have indicated their commitment to improve their products with a goal to widen adoption to all types of U.S. military ground vehicles, Scott Nance wrote on the October issue of Ground Combat & Tactical ISR.
Jim Carter, director of product development for survivability at QinetiQ North America, said the seats, designed to increase occupant survivability from an explosive blast, are typically installed on mine-resistant ambush protected and other light combat vehicles.
"This is a trend that is continuing, and with good reason. However, the place where they would have the biggest impact is in common-use platforms like medium and heavy cargo trucks," Carter said.
According to Carter, refining the blast-attenuating features and suspension systems of the product would make it more viable as the seat of choice for general use.
"The need to reduce vehicle weight and power requirements can come at a price in terms of armor and external blast protection," he said.
"By integrating energy attenuation into the seats, lighter vehicles can be made more survivable and heavy vehicles less vulnerable to overmatch."
The publication noted that at BAE Systems, vehicle protection teams continually collaborate with the military to look at how to improve survivability, leveraging its experience on modeling, simulation and aviation seat technology.
"You have to manage the balance of putting in the lightest-weight materials versus putting in the lowest-cost materials," Mike McDermott, program director for vehicle protection at BAE Systems.
"[Cost control] is definitely a priority, as well as survivability and also comfort."
Nance writes that MasterCraft Military has observed a growing preference for more maneuverable vehicles, another trend that Kelli Willmore, vice president of business development, said could be accelerating the need for industry to make safer, lighter and cost-effective seating systems.