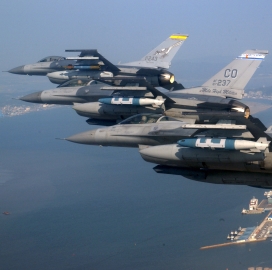 Northrop Grumman has completed a series of engineering and manufacturing development design reviews on its active electronically scanned array radar that will replace legacy radar systems on Lockheed Martin's F-16 aircraft.
Northrop said Wednesday that Lockheed chose the AN/APG-83 Scalable Agile Beam Radar under separate F-16 upgrade programs to replace the radars used by U.S. and Taiwanese soldiers.
Jeff Leavitt, vice president of Northrop's combat avionics systems segment, said the company plans to deliver the EMD-phase radar hardware and software before the end of the year after the tests.
Those tests include a design review aimed to validate the common software block and exclusive radar modes for the U.S. and Taiwan F-16 fleets, Northrop said.