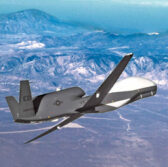 NASA has joined forces with Airware to come up with a framework to manage airspace for unmanned aircraft systems.
The company said Sept. 11 that it will rely on its knowledge on aerial information and flight control systems for commercial drones and network of UAS hardware and software providers to help built the traffic management platform.
Jesse Kallman, head of business development and regulatory affairs at Airware, noted that the project would need to undertake testing of all types of low-flying UAS to be able to recreate possible operational scenarios.
"We're excited to partner with NASA because our technology will allow us both to work towards a common goal of enabling safe and efficient commercial UAS operations," Kallman said.
The company is already under contract to study collision avoidance and flights in GPS-denied environments, work Kallman said supplements the new NASA project.