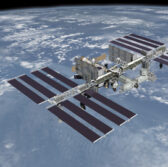 NASA has released a second request for proposals through its commercial space program for more companies to launch logistical and research payloads and help send supplies to the International Space Station.
The Commercial Resupply Services 2 program includes at least six flights to and from ISS for each potential contract through 2020 and an option for additional flights through 2024, NASA said Friday.
"To push beyond low-Earth orbit and on to Mars, we rely on American industry to keep the station supplied through cargo deliveries," said William Gerstenmaier, associate administrator for human exploration and operations at NASA.
The space agency wants respondents to demonstrate space launch and rendezvous functions for the delivery, disposal and/or return of cargo in pressurized and unpressurized conditions.
Responses will be accepted until Nov. 14 and contract awards are scheduled for May 2015.
Orbital Sciences and SpaceX are currently performing cargo resupply flights to ISS through December 2016 under the first Commercial Resupply Services program and Boeing provides U.S. space crew transport services alongside SpaceX.