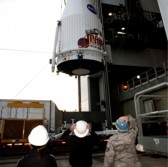 Lockheed Martin and NASA have confirmed that the Mars Atmosphere and Volatile Evolution spacecraft has entered Mars' orbit as they prepare for MAVEN's primary mission to collect data on gases in the planet's upper atmosphere.
NASA said Sunday that the team used data from Lockheed's Colorado operations center and the Jet Propulsion Laboratory's California navigation facility to confirm orbit insertion.
MAVEN, which Lockheed built, will then undergo a six-month commissioning phase before the primary mission starts.
Charles Bolden , NASA administrator, said MAVEN will work to "improve our understanding of the history of the Martian atmosphere, how the climate has changed over time, and how that has influenced the evolution of the surface and the potential habitability of the planet."
"It also will better inform a future mission to send humans to the Red Planet in the 2030s."
MAVEN will carry out five "deep dip campaigns" to develop a full profile of Mars' upper atmosphere for the science mission.
The company, NASA and other government and academic partners have prepared for MAVEN to enter Martian orbit as the spacecraft approached the end of a 10-month interplanetary mission.