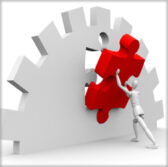 IBM expects to complete the $2.1 billion sale of its x86 server business to Lenovo on Oct. 1 as the latter firm moves to expand its offerings in enterprise hardware and services.
Lenovo said Monday that System x, BladeCenter, Flex System, NeXtScale, iDataPlex, x86-based Flex systems and blade networking are included in the transaction.
Yang Yuanqing, Lenovo chairman and CEO, said the company will now focus on managing the transition as it eyes a push in the global server market.
IBM will temporarily continue maintenance operations and Lenovo has agreed to follow IBM's product road map for x86.
Adalio Sanchez will also continue to lead the x86 server business, now under Lenovo's enterprise business group, where he will serve as senior vice president of enterprise systems and report to Gerry Smith, the announcement stated.
The estimated deal breakdown is $1.8 billion in cash and $280 million in Lenovo stock as of close of business on Friday.
Lenovo said the companies have also established a strategic alliance that will enable it to resell some IBM storage and software products as part of an enterprise IT package.
Lenovo also anticipates the conclusion of its Motorola Mobility purchase from Google.