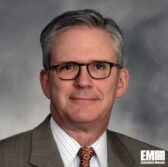 Jim Reagan, chief financial officer at Vencore, brings nearly two decades of financial leadership to his role at the technology services contractor and oversees the company's fiscal support functions.
Vencore, formerly known as The SI Organization, closed its potential $165 million purchase of QinetiQ's U.S. services and solutions group in May and announced the new name of "Vencore" in July to reflect a focus on additional business lines.
In this conversation with ExecutiveBiz, Reagan outlines the ongoing process to integrate the services business into Vencore and how the company chose that brand identity.
ExecutiveBiz: What was behind the decision of changing the name of The SI to "Vencore?"
Jim Reagan: There were two things at play. First, the Services and Solutions Group of QinetiQ North America, the business we acquired, was required to change its name as part of the spin-off transaction from the UK-based parent. Second, we decided that we wanted to have a name that better fit the new mission and focus of the combined entity.
Although systems integration will always be an area of expertise at Vencore, there are other capabilities that the combined business offers, such as engineering work for customers like NASA. We do advanced missile systems guidance software, highly complex software development for the weapons systems for the DoD. We do energy management systems for GSA, the largest building tenant in the US. It was important for us to create a name that would encompass the diversity of our new business. "The SI" was too constraining.
ExecutiveBiz: What was the process in picking the name and were there any other name choices?
Jim Reagan: We canvassed our 4,800 SI employees on how we might brand the new company with our broader mission. Many thousand entries were submitted and boiled down to ten, which we had to make sure weren't already being used by companies in our space. We wanted to adopt a name that had a readily available domain name that we could register. We incorporated ideas from our employees and branding experts before settling on the name Vencore. We feel that our name clearly indicates that our innovative services and solutions are at the core of our customers' missions and our role is as their trusted partner.
ExecutiveBiz: How do you see QinetiQ fitting in with the new rebranded company? What services and capabilities does the acquisition of QNA Services and Solutions bring?
Jim Reagan: We have already began the process of fully integrating QinetiQ North America Services and Solutions Group into the fabric of the legacy SI business. We believe that the cultures already fit extremely well together and the integration process is moving faster than we had originally planned. The new services and capabilities of the acquisition include everything from field engineering support for entities like our largest customer NASA, to highly specialized and highly technical systems design development capabilities for the DoD, where we provide the guidance system development for advanced missile systems it currently deploys.
The U.S. government occupies more office and building space than any other entity in the country. We've built a very complex weave of systems to help the GSA manage their energy usage and save the taxpayers hundreds of millions of dollars a year. We help the U.S. Army in condition based maintenance for its helicopter fleet, deploying advanced sensing technology to determine when maintenance is really needed. This is aimed at increasing the uptime for our military assets in the air as well as better optimizing the maintenance cost for those assets. We look forward to broadening the condition based maintenance work across DoD.
Historically the old SI business was 95% classified work and that made it difficult to acquire new customers using past performances. Today we are a much larger company with very little overlap in customer sets and contract types. This enables us to pursue business as a combined entity with a great deal of revenue and cost synergy.
ExecutiveBiz: How do all of these new company services change the structure of the company considering QNA and other recent past acquisitions?
Jim Reagan: As a company that is twice the size it used to be, it enables us to examine our cost structure in a very aggressive way, and helps us deliver products to our customers at a more cost-effective price and maintain our profitability through greater efficiencies. It makes us more competitive. We will be a larger entity with the same kind of support structure but serving a larger revenue base in a much more efficient way.
ExecutiveBiz: Do you have plans for more acquisitions?
Jim Reagan: We're always looking at ideas that can add value to our customers. We don't anticipate doing anything in the short term, but we'll be looking for growth opportunities for the business after the SSG acquisition is fully integrated.
ExecutiveBiz: What is the company's growth plan?
Jim Reagan: The growth plan is to leverage the capabilities that we have acquired through QNA SSG and the ACS (Applied Communication Sciences) acquisition in 2013 where we added nearly 300 scientists and researchers to solve big problems for the U.S. government and commercial entities. We have dozens of patents in various areas of communication and cyber technology through the acquisition of ACS. By leveraging that with the broad customer set from QNA, we will be able to pursue new business in the energy sector through smart-grid technologies that optimize and protect the nation's energy supply grid.
We can continue our business in NASA and the DoD, where our true rocket scientists can do wonderful things for our customers. We can put the modeling and simulation capabilities from the heritage classified space programs to work and grow a significant business in commercial space – serving potential customers like SpaceX or Virgin Galactic.
ExecutiveBiz: How would you help the businesses of SpaceX and Virgin Galactic and grow the commercial part of your business?
Jim Reagan: Our capabilities in the aerospace business go back 40 years helping the government solve complex problems in aerospace technology, satellite launches and satellite use optimization. With our experience we are able help commercial space organizations conduct modeling and simulation analysis and solve critical engineering problems such as launch availability, as they prepare to grow their business in a great public-private partnership with NASA and other parts of the U.S. government.
ExecutiveBiz: What is your view on how the federal market is shaping up for system integrators and services companies?
Jim Reagan: The work that we do in systems integration and systems analysis as a trusted partner in the Intelligence community is unparalleled. The need for the systems that support our country's Intelligence infrastructure will always be very strong. We are going to maintain a very strong position in that core customer set and we are now able to offer those same high-end capabilities across the entire U.S. government.
ExecutiveBiz: Is there anything specific you would like to say about cyber?
Jim Reagan: For years ACS has had a significant presence helping government agencies protect their networks from cyber threats. Today, we are working for the Department of Homeland Security protecting the .gov infrastructure from cyber threats. The experience from working with DHS in its cyber efforts represents a great growth opportunity for us across the government and the private sector.
ExecutiveBiz: What are you most excited for?
Jim Reagan: I'm most excited about taking the legacy systems integration modeling and simulation capabilities across a much broader customer set. I'm also very excited about our technology offerings, whether it is advancing the burgeoning space business, helping the government and private enterprise protect the nation's energy grid or optimizing the budget of the federal side in NASA making it through the latest sequestration well.