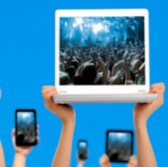 IBM has released a report that aims to guide companies on how to use data analytics and enterprise mobile tools beyond customer relationship management to facilitate employee collaboration, decision-making and innovation.
The IBM Institute for Business Value report titled, "The Individual Enterprise – How Mobility Redefines Business" is intended to help businesses establish the foundation for a mobile initiative, the company says.
"Currently most enterprise mobile use is restricted to email, calendaring and instant messaging," said Saul Berman, vice president and chief strategist for IBM's global business services segment.
"Consider how combining mobile devices and cognitive analytics can completely transform how we work, industries operate and companies perform."
IBM identified security, connectivity, resiliency, orchestration and insights and learning as fundamental to a mobile enterprise.
The company highlighted associated measures for device management, disaster recovery and contingency and analytics, among others.