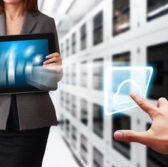 A Raytheon-commissioned report indicates that 52 percent of U.S. organizations often sacrifice data security in order to achieve greater efficiency through mobile connectivity.
Raytheon said Monday the Ponemon Institute polled 618 information technology practitioners who oversee enterprise security and mobility programs for the "Security in the New Mobile Ecosystem" report.
One-third of IT professionals surveyed use mobile devices to perform work and 64 percent said their organizations do not have adequate budget to protect mobile platforms from threats.
Fifty-seven percent of respondents believe that enterprises must consider deploying a virtualization technology designed to separate data from the hardware, according to Raytheon.
"This survey points to the fact that there is a struggle to find the right balance between the cyber security needs of an organization and the efficiencies demanded by employees to do their jobs," said Ashok Sankar, senior director of product management and strategy at Raytheon's cyber products business.
Sankar recommended that organizations develop a mobile strategy that would help employees work effectively while keeping sensitive information secured.