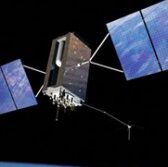 Iridium Communications and SpaceX have completed qualification tests for the dispenser assembly of the Iridium NEXT satellite.
The satellite dispenser underwent fit check, separation and shock testing, a modal survey and static loads tests, Iridium said Thursday.
"The dispenser passed its system level qualification tests with flying colors, and we're now moving forward with launch preparations," said Scott Smith, Iridium chief operating officer.
The assembly is built to hold the satellites during launch and coordinate their separation from the SpaceX-built Falcon 9 rocket before each satellite reaches its designated low-Earth orbit position.
"We're pleased to be a launch partner in the Iridium NEXT program, and looking forward to the first of many launches, which are scheduled to begin in 2015," added Gwynne Shotwell, president and COO of SpaceX.
The Iridium NEXT satellite is set to carry Aireon's payload for aircraft tracking and surveillance operations and Iridium's PRIMESM offering for hosted payloads.