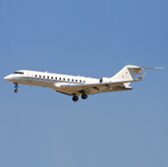 Boeing has partnered with Bombardier to develop a new maritime surveillance aircraft that combines Boeing's P-8 sensors and mission systems and Bombardier's Challenger 605 flight features, DoD Buzz reported Monday.
Kris Osborn reports the aircraft is designed for maritime and over-land surveillance, search-and-rescue and border and harbor security operations.
"We chose the Challenger very carefully. We looked at it in terms of payload, speed, endurance and persistence," said Bob Schoeffling, senior manager of business development at Boeing.
The report said the new aircraft will also feature an active electronically scanned array radar and electro-optical infrared cameras, although it will not have the P-8's weapons system and anti-submarine warfare technology.