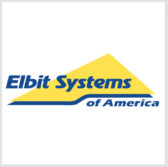 Elbit Systems has been chosen by Switzerland's defense agency to provide the country's military with an unmanned aerial system that is built to support reconnaissance operations.
Switzerland department of defense, civil protection and sports has picked the company's Hermes 900 HFE drone system to replace the country's existing tactical UAS platform, the agency said Friday.
The government estimates the UAS acquisition program will cost almost $280 million and says the proposal is subject to Swiss parliamentary approval.
Elbit designed the Hermes 900 unarmed drone to operate in all weather conditions as well as to perform long-endurance reconnaissance flights.