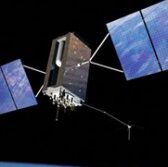 Northrop Grumman has won a potential $9 million contract to supply a navigation sensor technology to South Korea's national space agency for geostationary satellites built to monitor space weather, ocean and atmospheric conditions.
The company's Scalable Space Inertial Reference Units will work to deliver continuous rotational data on South Korea's GEO"'KOMPSAT-2A and 2B environmental satellites, Northrop said Tuesday.
According to Northrop, the space vehicles are scheduled for orbital launches in 2018 and 2019 and both platforms are intended to last for at least a decade.
SIRUs are designed with Northrop's hemispherical resonator gyro system, which has been installed on more than 100 satellites to date.
The company has provided its SIRU technology for a previous multi-purpose satellite program run by the Korea Aerospace Research Institute.
Northrop says the latest contract includes an option for the company to produce one additional SIRU for KOMPSAT-6.