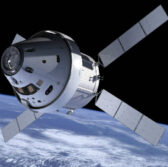 Lockheed Martin and NASA have completed installation of a heat shield to the Orion's crew module in preparation for Exploration Flight Test-1, where researchers will determine possible design improvements based on test performance data.
NASA said Thursday the heat shield, manufactured by Lockheed and made of a material called Avcoat, is designed to protect the spacecraft and its crew from the extreme temperatures in space.
"The heat shield is such a critical piece, not just for this mission, but for our plans to send humans into deep space," said Mark Geyer, Orion program manager at the Johnson Space Center.
NASA's goal for the EFT-1 flight test in December is to demonstrate the capabilities of the heat shield and other Orion components amid 4,000-degree heat during reentry and the impact of a 20,000-mile-per-hour ocean splashdown.
The heat shield was built at Lockheed's Waterton Facility before it was completed by Textron Defense Systems and shipped to Kennedy Space Center for installation onto Orion.