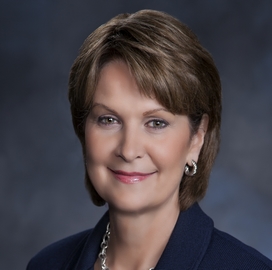 Lockheed Martin CEO Marillyn Hewson sought to underscore in a Media Day speech this week the company"™s work to bring emerging technologies to the company's targeted markets through international partnerships and innovation.
The chief executive told reporters Monday that Lockheed has already brought several technologies — air traffic control systems and satellites for GPS and weather tracking, among others — to clients in both the public and private sectors.
Hewson added that the contractor is "constantly looking for ways to make them even better."
She included a rundown of activities toward advancing its F-35 stealth fighter, Joint Light Tactical Vehicle, Long-Range Anti-Ship Missile, Orion and MAVEN spacecraft, and SR-72 hypersonic aircraft portfolios, as well as projects geared toward thwarting cyber threats.
Hewson said the company is also making moves to strengthen its partner base, opening new offices and sealing agreements and contracts in the global marketplace through the likes of Lockheed Martin International, Lockheed Martin Canada and Lockheed Martin UK.
"The bottom line is we"™re reaching out to our international customers," Hewson told reporters, noting Lockheed"™s 2015 goal to achieve a 20-percent revenue growth from its activities overseas.
Hewson also outlined advances the company has made in scientific discovery toward producing "green" electricity from ocean waves and potable water using nanotechnology techniques, as well as its progress in robotics and smart grids.
"All of these emerging technologies and adapted innovations are some of the many ways that we are applying our full capability to address today"™s most urgent and complex challenges," Hewson said.
"By delivering next generation technology today, expanding our reach to international customers and staying at the edge of scientific discovery, Lockheed Martin is 'Helping the Future Arrive,' and securing a bright future for our company as well," she added.