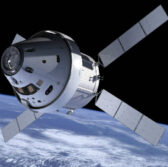 A team of NASA and Lockheed Martin engineers has begun integrating a thermal protection system onto the crew module of the agency's Orion deep-space exploration vehicle.
NASA plans to conduct a maiden test flight for the Orion spacecraft by Dec. 4, Lockheed said Wednesday.
The test's goal is to evaluate if the heat shield will work to protect the capsule from temperatures as high as 4,000 degrees when re-entering the Earth's atmosphere and during an ocean splashdown.
Engineers will also assess Orion's avionics, attitude control, guidance, parachute deployment, ground systems and separation events.
NASA's Kennedy Space Center will fuel and service the spacecraft.
Lockheed and the United Launch Alliance, a 50-50 joint venture of Lockheed and Boeing, will collaborate to integrate the launch pad and prepare for liftoff operations.
Derek Kilmer, Tom Cole Seek NDAA Changes to Address Legality of DoD Furloughs