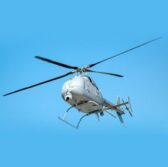 The U.S. Navy and Northrop Grumman will conduct tests to assess how a Northrop-built unmanned helicopter operates in an electromagnetic environment at sea.
Northrop designed the MQ-8C Fire Scout aircraft with a Faraday shield that aims to protect avionics systems against radio frequency interference, Northrop said Monday.
"Almost 95 percent of what makes up the MQ-8B variant is reused in the MQ-8C to save money and the time needed to conduct a test program," said George Vardoulakis, Northrop vice president of medium range tactical systems.
"All Navy aircraft must go through electromagnetic interference testing to ensure they can operate safely in the ship environment," said Capt. Patrick Smith, a program manager at the Naval Air Systems Command.
The branch plans to conduct ship-based flight demonstrations of the MQ-8C this spring and kick off operations on the unmanned helicopter next year.
According to Northrop, the MQ-8C Fire Scout has recorded 102 flights to date.