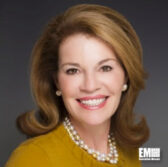 Teresa Carlson, vice president of Amazon Web Services' worldwide public sector, participated in a panel discussion Thursday at the FOSE Conference and Exposition and shared her insights on balancing the role of technology,  the Washington Journal reported Thursday.
Jill Aitoro writes that Carlson considers herself an "old school" person who puts emphasis on business communications.
"We"™re on all the time. We"™re always connected. But I"™m a little old school," Carlson said, according to Aitoro's article.
She noted that it's important to find the balance between face-to-face and technology-based interaction.
"You need to understand how to communicate. You need to get people face to face. Problem solving and learning how to communicate one to one, one to few and one to many is important," Carlson said, according to the report.
"How rapidly we have to respond "" we"™re able to multitask so much that everyone is expected to do three jobs."
Carlson also touched on the use of her twitter account and how important it is to think before tweeting.
"I think everybody knows this, but may forget in that "˜tweet moment"™ "" you represent yourself all the time," Carlson said.
"And you"™re representing your agency, your company, your brand. You can"™t forget that. These things don"™t go away. They"™re out there forever."