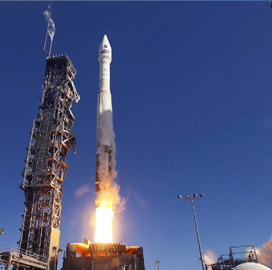 ATK and Aerojet Rocketdyne aided in the launch of a United Launch Alliance-built rocket on Friday from Cape Canaveral, Fla.
ATK technologies also helped to operate the new Boeing GPS IIF satellite, ATK said Monday.
The company developed the solar arrays on the GPS IIF satellite, two Graphite Epoxy Motors, composite structures and the main engine nozzle.
The Delta IV medium-plus rocket featured two ATK GEM-60 solid rocket motors and the composite structures comprised the GEM cases, nose cones, aeroskirts, launch vehicle fairing, payload attach fitting and diaphragm, interstage, centerbody and thermal shield.
"Our team's dedication and execution excellence help deliver increased capability to GPS users around the world," said Blake Larson, president of ATK's aerospace group.
Aerojet Rocketdyne built the propulsion systems and 12 monopropellant thrusters while the company"™s ARDÉ subsidiary supplied the pressure vessels for the launch vehicle.