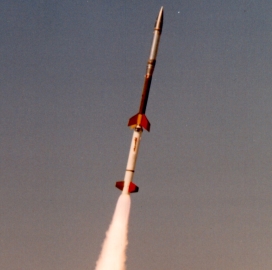 Aerojet Rocketdyne and aerospace engineering firm Dynetics have expanded their partnership to develop rocket propulsion and booster systems for government and commercial aerospace customers.
The companies have worked together under NASA's Space Launch System program with the goal of minimizing risks for launch vehicle thrusters, Aerojet Rocketdyne said Monday.
NASA, Aerojet Rocketdyne and Dynetics also collaborated to build and test a replica of the F-1 engine that was used to lift off the Saturn V moon rocket.
"Because of these tests, the team successfully completed design and fabrication of a new full-scale gas generator injector using additive manufacturing that will be hot fired at Marshall Space Flight Center in late 2014," said Julie Van Kleeck, vice president of Aerojet Rocketdyne's space and launch systems business.
"Additionally, other components have been produced, demonstrating affordable casting techniques for large, complicated engine components," Van Kleeck added.
The new agreement calls for the companies to develop additive manufacturing systems, lightweight materials, in-space propellants and rocket motors.