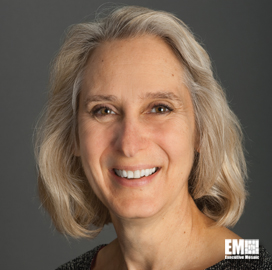 ExecutiveBiz recently spoke with Tina Kuhn, a top cybersecurity executive with Northrop Grumman Information Systems, on Northrop's international expansion, opportunities for transformation within the government budget environment, how to "build-in" cyber defenses, and more in the cyber space.
Kuhn joined Northrop in 2012 after holding a series of GovCon leadership roles focusing on intelligence and cybersecurity, including stints as vice president of General Dynamics' intelligence systems business line and VP and director of programs for SAIC's information solutions business unit.
Continue reading below for Kuhn's executive perspective on these points and more.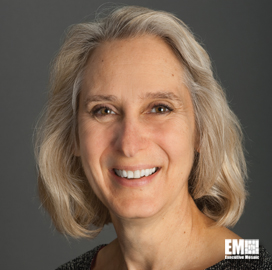 ExecutiveBiz: Walk us through your business and portfolio. Â 
Tina Kuhn: I'm vice president of the Defense Solutions business unit within the Cyber Solutions division at Northrop Grumman Information Systems. My portfolio includes cyber, mobile security, enterprise IT, biometrics and bio-intelligence.
There are 1,300 people within my business unit and the customers we serve include the U.S. Cyber Command, Army, Air Force, Navy, Naval Space and Naval Warfare Systems, Marine Corps, DISA, joint forces, and several international customers.
The cyber portfolio contains everything from full-spectrum cyber expertise and 24/7 cyber operations centers, to malware analysis, vulnerability assessment expertise, reverse engineering, cyber forensics, cyber warfare exercises and test ranges, information assurance, and incident handling.
We also manage the biometric information system for the Army and a bio-intelligence system fusing intelligence with biometrics.
As a company, we're not just providing cyber services; we're providing solutions and products.  We're applying our 30-plus years of cyber expertise and incorporating that knowledge into products and solutions to automate the cyber process for our customers.
 
ExecutiveBiz: What international customers are you targeting?
Tina Kuhn: We are primarily targeting the United Kingdom (UK), Australia, Japan, South Korea, United Arab Emirates, and Saudi Arabia.  We are developing a cyber operations center and computer network defense for NATO.
In the UK, Northrop Grumman operates in a number of locations including London, Cheltenham, Chester, Coventry, Fareham, Hendon, New Malden, Peterborough, and RAF Waddington.
The company also operates a cyber range in Australia with the Australian Defence Academy and last year acquired M5 Network Security, a provider of cybersecurity and secure mobile communications to military and intelligence organizations. Â Â So clearly, our footprint is growing.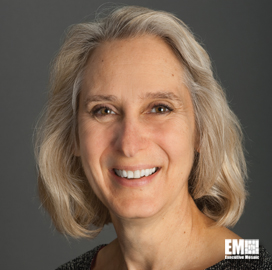 ExecutiveBiz: How are you positioning Northrop to grow in the current budget environment?
Tina Kuhn: The government environment is providing a catalyst for change.
We're looking at efficiencies within the business due to the competitive nature of the cyber arena and we're looking at efficiencies for our customers based on their budget constraints. We're focusing on what really matters to our customers' missions.
The government is more willing now to use solutions created outside of their organizations. So, we're able to collaborate across our company and bring technologies and solutions to bear for our government customers that are helping them save valuable time and money.
 
ExecutiveBiz: What is the status of the relationship between industry and government as it relates to cybersecurity and where should it go from here?
Tina Kuhn: The relationship between industry and government is extremely important and is moving in the right direction.  In the last couple of years, legislation – in different forms – has encouraged industry to help support government in their policies to produce a stronger cyber-secured nation.
The complexity and prevalence of the cyber threat means that no organization can solve this on their own, thus strong industry-government partnerships are critical. Â Northrop Grumman is supporting the next cybersecurity policies at DHS and other agencies.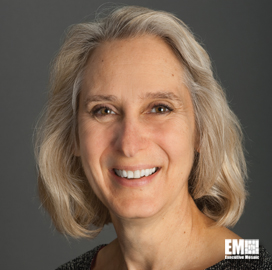 We need to help break down the barriers to share threat information across the public and private sector, including our international partners. We need to share that information to make sure that we are protecting our networks at the highest level.
In addition, it is important to have government cyber strategies that build upon what is currently working without layering on new bureaucracy or requirements that add cost and don't improve security. After all, our adversaries are moving very, very quickly.
The threats occur in milliseconds in your network and we need to have a structure in both government and private industry that moves as fast as our threats.  I also believe we need to factor cybersecurity  early in the acquisition lifecycle.
By that, I mean cybersecurity must be built-in from the ground-up, versus bolting it on later to products and systems.
 
ExecutiveBiz: What has stayed constant across your leadership roles in industry, and what's new in your current position?
Tina Kuhn: I have been providing cyber services and products to the U.S. government for more than 15 years. For the most part, my efforts have been focused on the Department of Defense (DoD) and the intelligence community (IC).
During my career, I did a significant number of rotations across the business and functional areas. I started out as a software engineer and went to line management, program management, business development, process, and program director.
Those rotations and the diverse customer sets provided me with a broad base of skills, and deep understanding of the customer mission, that has helped me significantly with my current portfolio at Northrop Grumman.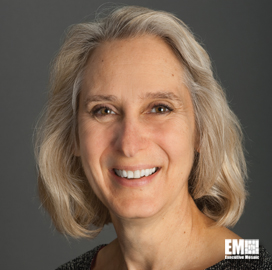 ExecutiveBiz: What are you most excited about moving forward?
Tina Kuhn: One of the most impressive aspects of Northrop Grumman its strong, focused leadership. We are empowered to bring the technology and innovation from across the company to support a customer's problem.
In this budget-constrained environment, our ability to affordably produce those innovative discriminators is critical to capturing and keeping new business.
Northrop Grumman has established an enterprise‑wide innovation program to help facilitate an environment that capitalizes on the ideas of our incredibly talented engineers.
I'm also excited about Northrop Grumman's approach to cybersecurity, where they lead the charge in the area of embedded cyber.  At Northrop Grumman, we build cyber into everything we do.
Our cybersecurity experts support all of our businesses – from the unmanned aircraft to the radar systems – to make sure that all the products we produce are built with cybersecurity in mind.
At the end of the day, we not only defend the computers, networks and data, but we also enhance the security of the products and systems we develop.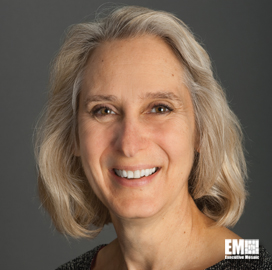 I am also excited about Northrop Grumman's commitment to STEM and building tomorrow's cyber workforce.  There are simply not enough qualified cyber professionals to meet the growing demand.  Northrop Grumman is partnered with leading colleges and universities to advance cyber research and innovation as well as help shape course cirriculum.
We're also making significant investments in the K-12 level to build this solid pipeline of cyber innovators.  We are the presenting sponsor of CyberPatriot, the National Youth Cyber Education program, that's exciting and movitating high school, and now middle-school students, to become cyber defenders.
On the higher education front, we're partnered with the University of Maryland supporting the Advanced Cybersecurity Experience for Students – the first cyber honors program and, at the University of Maryland Baltimore County, we're partnered on the Cyber Scholars program and Cync Incubator.
We also created the Cybersecurity Research Consortium that includes MIT, Carnegie Mellon, Purdue and the University of Southern California to advance next-generation solutions, and opened a cyber lab at Cal Poly San Luis Obispo.
In the spirit of continuing education, Northrop Grumman opened a Cyber Academy that's advancing cyber learning for both internal and external customers.
ExecutiveBiz: How do you manage such a diverse geographic workforce?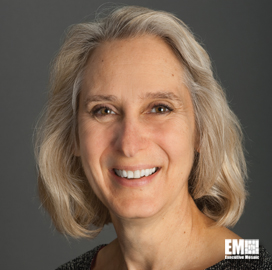 Tina Kuhn: I have employees in 29 states and six countries, so it is a very geographically‑diverse business unit.  At Northrop Grumman, we place a lot of emphasis on employee engagement and as such, the company provides the tools needed to promote an engaged workforce, no matter how geographically-diverse.
We use several different communication techniques: teleconferencing, video teleconferencing, and web-based meetings, in addition to face-to-face meetings.  Northrop Grumman employs numerous communication vehicles to keep employees abreast of company activities and is active on social media sites like Twitter and Facebook.
The engineers I work with at Northrop Grumman are extraordinary!  As I go from site to site, it gives me a real appreciation for the top-notch talent we have and helps me bring together that talent to generate the best solutions possible for our customer.
For instance, our biometric research team is in four different states, including engineers in Ohio, West Virginia, Massachusetts, and Virginia all working on the same project. We set up these virtual engineering teams to better collaborate across the country.
Another example is in the Washington, D.C. area where salaries are not only higher, but there's a shortage of cyber engineering with high-level clearances.
By creating virtual engineering teams, I'm able to use resources from across the country, instead of just in the D.C.-area, to bring some needed expertise to our customers' mission while keeping in mind affordability!