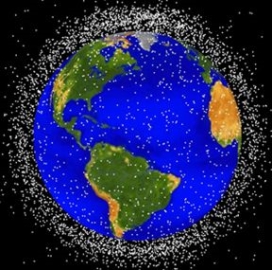 The U.S. Air Force could award a contract by the end of May to either Lockheed Martin or Raytheon for a radar to track debris in low-Earth orbit, a Lockheed vice president told Defense News in a story published Sunday.
"The (operational) date would be in 2018 for site 1," Steve Bruce, VP for advanced systems in Lockheed's mission systems and training business, said of the Air Force's Space Fence program.
"It"™s a development program with the biggest radar ever built, so I wouldn"™t claim it"™s easy, but it"™s pretty reasonable," Bruce told Defense News.
Aaron Mehta writes the companies are competing to develop the Space Fence technology to monitor space debris in low-Earth orbit and also avoid collision and damage to U.S. assets in space.
The Air Force has proposed $214 million in research, development, test and evaluation funding for the program in the branch's fiscal year 2015 budget request, Defense News reports.
Mehta reports the Air Force Space Command has made Space Fence a high priority as the military can currently track only 5 percent of approximately 500,000 objects in space.
The selected contractor will work to build Space Fence around an S-band radar based in the Marshall Islands in order to replace the Air Force Space Surveillance System, according to the report.
"The plan for the Air Force is site 1 goes in, it becomes operational, the contractor supports it for two years, and then the timing of it right now is when the first site becomes operational, the second site becomes awarded," Bruce said to Defense News.