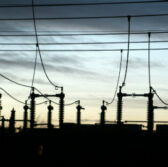 Siemens and ITT Corp. have worked to build a structural damping and isolation technology with the goal of keeping electrical grid infrastructures safe during an earthquake.
The companies' seismic protection system is designed to reduce earthquake-induced mechanical stress in high-voltage components at power transmission substations by up to 80 percent, ITT said Tuesday.
According to ITT, the platform works to secure grids' fixed series capacitors and live tank circuit breakers.
"Thanks to our close cooperation with ITT, Siemens managed to develop advanced finite element models of the high voltage equipment including base isolation in order to accurately simulate their complex combined seismic response," said Christos Kotanidis, a senior seismic engineering expert at Siemens' power transmission division.
ITT will showcase the technology at this week's Hannover Messe trade fair in Germany.